LawLifeline, launched in late summer 2012, is an anonymous, confidential online resource for virtually every law student in the country that provides general information regarding mental health issues as well as specific resources and services available to students in their communities.
Additionally, LawLifeline offers an online diagnostic screening tool for students to use to determine whether they or their friends are experiencing symptoms of a mental health disease or disorder.
The Anxious Lawyer: An 8-Week Guide to a Joyful and Satisfying Law Practice Through Mindfulness and Meditation
By Jeena Cho
find it on Amazon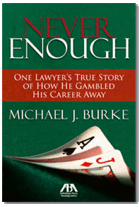 Never Enough: One Lawyer's True Story of How He Gambled His Career Away
By Michael J. Burke
www.neverenoughthebook.com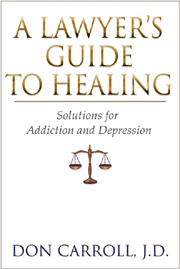 A Lawyer's Guide To Healing: Solutions for Addiction and Depression
By: Don Carroll, J.D.
www.hazelden.org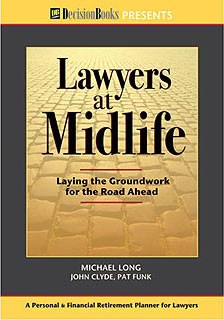 Lawyers at Midlife: Laying the Groundwork for the Road Ahead.
By: Michael Long, John Clyde, & Pat Funk
www.amazon.com
ABA Commission on Lawyer Assistance Programs
International Lawyers in A.A. (ILAA)
Alcoholics Anonymous
Alcoholics Anonymous Speaker Tape Archives
Narcotics Anonymous
Dual Recovery Anonymous
Sexaholics Anonymous
Dual Diagnosis Online Support Group
Lawyers With Depression
Mental Health Infosource
National Institute of Mental Health (NIMH)
National Institute on Alcohol Abuse and Alcoholism (NIAAA)
National Institute on Drug Abuse (NIDA)
Substance Abuse and Mental Health Services Administration (SAMHSA)
Recovery Resources for Professionals
Recovery Resources
Recovery Help on the Net
Sober Trips & Cruises
NIOSH Study: Stress at Work
American Association of Suicidology www.suicidology.org
American Foundation of Suicide Prevention www.afsp.org
National Organization for People of Color Against Suicide www.geocities.com/nopcas
Suicide Prevention Advocacy Network USA www.spanusa.org
Sex Addiction Recovery website www.gentlepath.com