Kentucky Lawyer Assistance Program (KYLAP)
KYLAP is a program of the Kentucky Bar Association that offers help to members of the Kentucky legal community who are struggling with mental health issues, such as depression, alcohol and drug abuse, stress, compulsive gambling or any other condition that may adversely impact the individual's personal or professional life.
National Suicide Prevention Lifeline: 1-800-273-TALK (8255)
Local Crisis Lines http://www.mhmr.ky.gov/KDMHMRS/crisisnos.asp
Recommended Resource: The Anxious Lawyer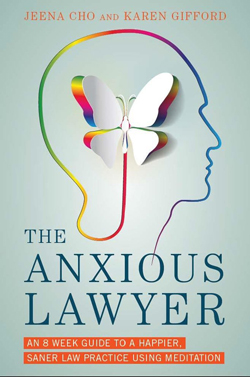 One of the primary responsibilities for most lawyers is to control the outcome of his or her cases. Not only must we strive to affect, mold and predict the future, we also need to be on guard for anything that may come up to impede our desired outcome. It's no wonder that so many lawyers suffer from anxiety, stress, depression and substance abuse.
Anxiety - where the trouble begins - is defined as "a feeling of worry, nervousness, or unease, typically about an imminent event or something with an uncertain outcome." One of the most effective ways to deal with anxiety is mindfulness and meditation.
Karen Gifford and Jeena Cho have written The Anxious Lawyer (ABA). Readers will be guided through an eight-week program which will enable them to establish an ongoing meditation practice. This guided program will make learning practical and accessible to lawyers. This simple and straightforward introduction to meditation and mindfulness for lawyers is now available by clicking here.
Note: KYLAP is a service offered to bar members and law students. Services provided are not available to the general public. KYLAP is not a lawyer referral service. For help in finding a lawyer referral service please contact the Kentucky Bar Association at (502) 564-3795, or view the lawyer locator on the KBA website: www.kybar.org. All calls to KYLAP are strictly confidential. SCR 3.990
Kentucky Lawyer Assistance Program
P. O. Box 1437
Frankfort, KY 40602
(502) 564-3795
Fax (866) 364-7254
Director's Cell (859) 221-0806