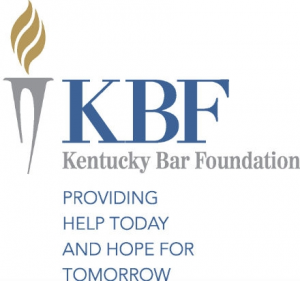 KYLAP Foundation gratefully acknowledges the Kentucky Bar Foundation for its generous grant of $10,000 in 2017.
Over the past 30 years, a group of dedicated Kentucky lawyers has assisted its fellow members of the Bar. From their original incarnation as the Kentucky Bar Association Alcohol and Drug Abuse Committee to today's Kentucky Lawyers Assistance Program (KYLAP) these men and women have volunteered their time to help those in dire need. We now have the opportunity to expand that help in new and exciting ways through the Kentucky Lawyers Assistance Program Foundation, Inc.
By now, KYLAP's mission should be well known to the Kentucky Bar. It provides assistance to those attorneys in need of help. This assistance takes many forms from reaching out to impaired attorneys to monitoring their progress in treatment and recovery. This mission is not limited to practicing lawyers. Former lawyers and law students also benefit. As a volunteer KYLAP counselor, I can attest to the substantial efforts made daily to assist our fellow attorneys.
But we need to do more. In fact, we must. Toward that end, the Kentucky Lawyers Assistance Program Foundation, Inc. has been formed to further advance KYLAP's goals. I am pleased to have been asked to serve on the Foundation's Board of Trustees, along with several other Kentucky lawyers. We are excited by the prospects for the Foundation.
The Foundation is a 501(c) (3) non-profit corporation authorized under Kentucky Supreme Court Rule 3.910(8). The Foundation will provide loans to impaired lawyers to help cover the costs of treatment, bar dues, disciplinary fees and other expenses which have been barriers to seeking help. We will also help fund educational programs for the bar and public to encourage wellness, sobriety, good mental health and recovery. The goal is twofold: 1) assistance to the legal community; and 2) protection of the public from harm caused by impaired lawyers.
More about the Foundation: